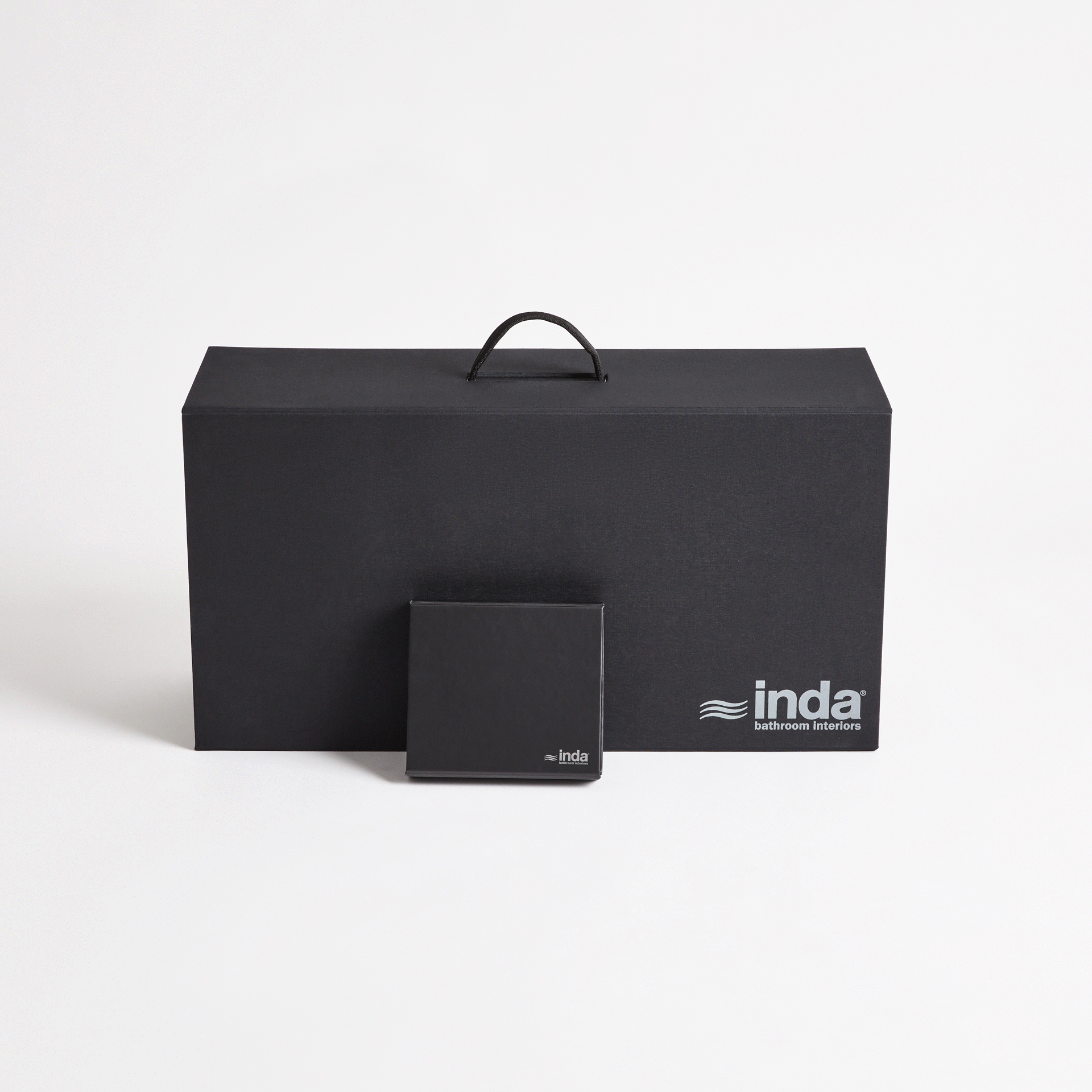 An innate and distinctive elegance, for bathroom environments with a creative matrix.
Inda has inhabited the world of bathroom furniture and shower design for over 75 years. An entrepreneurial story that has grown into an industrial group, consolidating itself worldwide and achieving an audience of heterogeneous tastes.
The collaboration with Idea Campionari has been particularly active, with a firm and trusted foundation and a boost of inventiveness in the creation of multifunctional sample collections.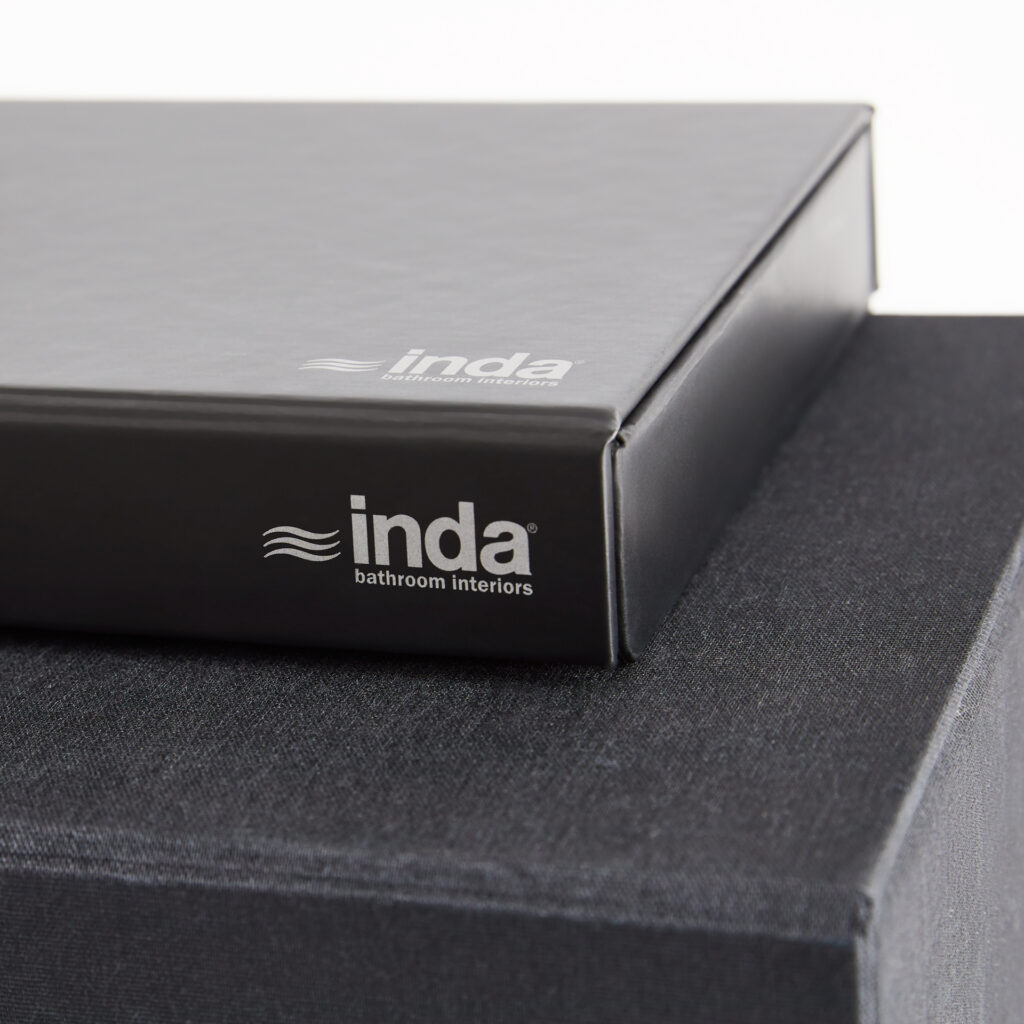 Inda was founded in 1944 in the province of Varese in order to manufacture brass objects for bathroom furnishings. The rapid evolution in the post-war era shifted the company from a handicraft dimension to an engineered industrial context.
Always paying close attention to market needs, new materials were chosen, from glass to ceramics, characterising the group's ramifications and acquisitions.
Ready to preside over the global market, Inda envisaged a complete furniture collection focused on the bathroom setting, inaugurating the 2000s with innovative electronic systems and numerous investments in Research and Development.
In 2013, the Inda brand merged with Samo, thus becoming one of the largest integrated groups in the sector at European level, with three different sites, conceiving a complete range of bathroom solutions, from furniture to accessories, from shower walls to lighting accessories.
An industrial universe with creative drive, aiming to respond to changing lifestyles with high quality design, totally Italian and with attention to detail.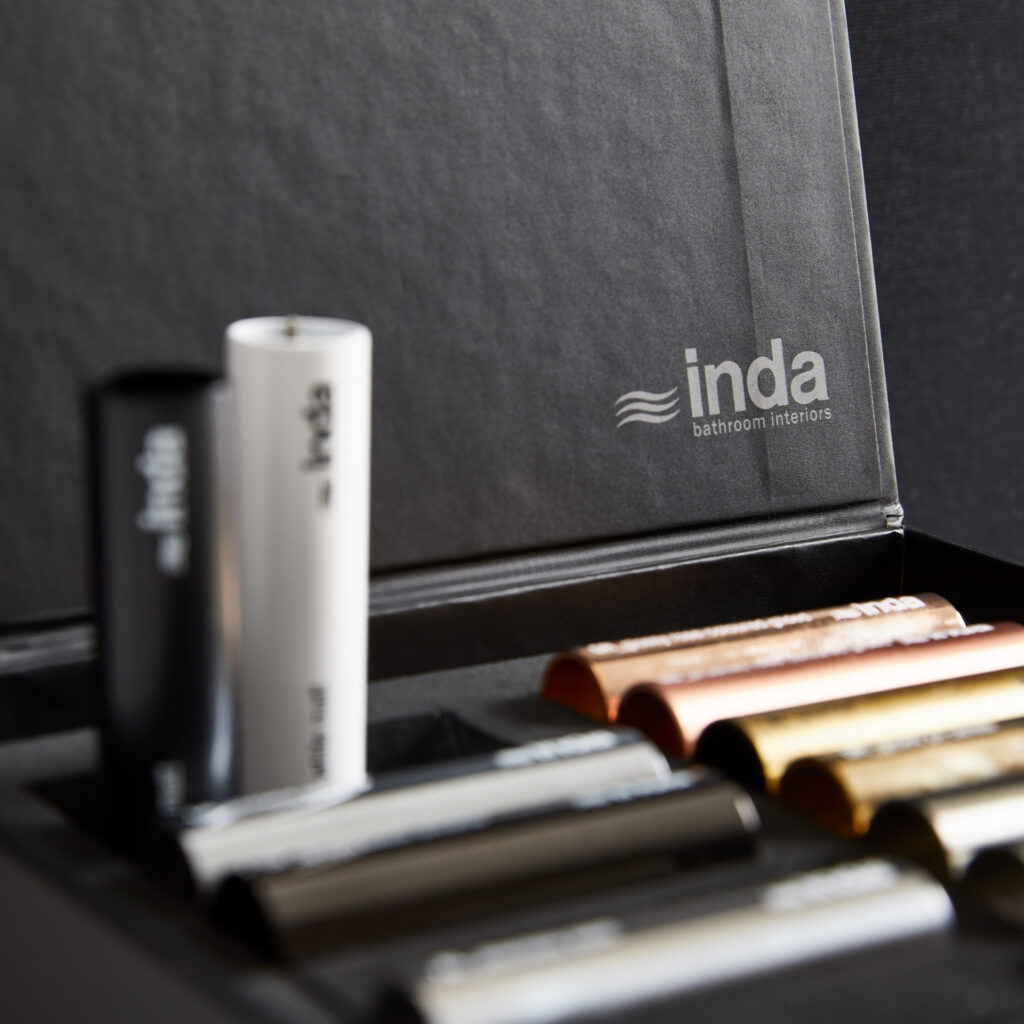 The partnership with Idea Campionari starts from this skilful union of identity elements: boundless quality and creative adaptability to the needs of contemporary living, for a bathroom and shower design that offers the best solutions without sacrificing refinement.
For the project dedicated to Inda, a whole range of processes was brought into play, skilfully structuring a Sample Suitcase that can hold particularly heavy samples. The world of bathroom furniture, in fact, works with materials of a considerable weight, both in terms of quality and volume.
The case is externally finished in black screen-printed canvas, while on the inside we have incorporated a styrofoam grid covered with a textured foil, applied by paper craftsmanship. This structure makes it possible to insert individual slots for the different samples, which are themselves screen-printed in a single colour.
To complete the sample collection, swatches have been created so as to express all the natural elegance of melamine and laminate, together with original coded metal tubes for a distinctive material brilliance..
Inda's creative elegance interpretations deserve to be presented at their best, communicating the high quality of bathroom design with an overall vision, thanks to the professionalism of Idea Campionari.