Made-to-measure design to build modern living.
As part of the Würth Group, Würth Italia has for decades been defining solutions for fastening and assembly systems, starting with high quality hardware components and going on to support all-round interior design.
The internationally renowned group, with several major logistic hubs, represents a valuable collaboration for Idea Campionari, providing access to the full research and development potential dedicated to sampling.
Würth Group is the world's leading distributor of fastening and assembly products and systems with over 125,000 products in its range, including metal and plastic small parts, manual, electrical and pneumatic tools, chemicals, accident prevention clothing and equipment, storage systems and workshop equipment.
The group is characterised by a substantial investment in research and development, collecting patents and developing a series of unique innovative systems, always oriented towards the highest quality. At the same time, it also pays special attention to cultural and sports promotion, sponsoring non-profit organisations, art foundations and sports clubs.
In this regard, in 2016 it launched the Wüdesto system on the Italian market; a business model aimed at artisans and designers with the aim of supporting them in the creation and sale of interior furnishings for any room in the home.
Wüdesto is the only solution that can support the customer throughout the entire process of creating high-quality customised furniture. With Wüdesto, it is possible to design a single piece of furniture or the entire furnishing of a room, presenting it to the user in a virtual reality emotional experience.
Furthermore, the highest quality semi-finished products and the elements necessary to realise the project can be ordered directly, relying on certain costs and delivery times.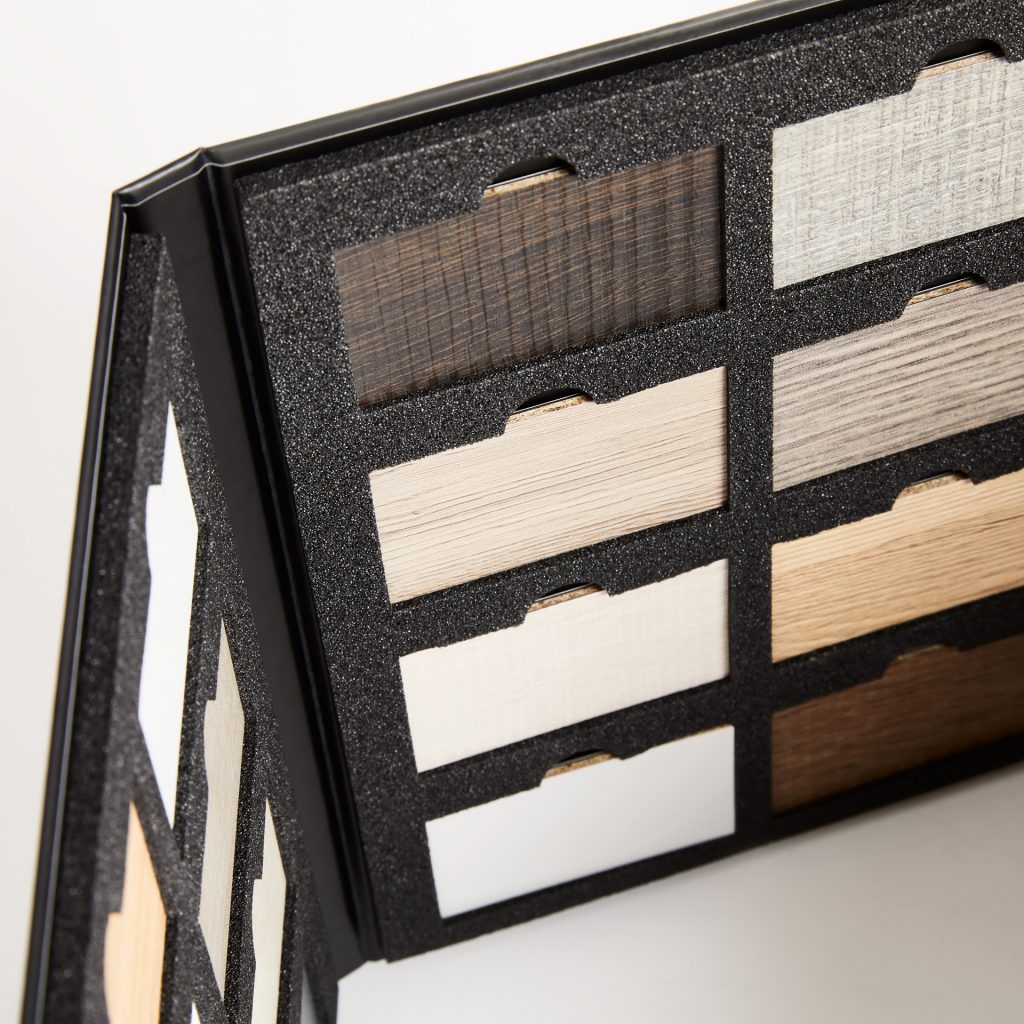 The partnership especially created with Idea Campionari aims to best interpret the company's needs, both at the Italian and international level, taking care of multilingual samples.
The range of elements to be represented in the Wüdesto sample book imagines many possible finishes, showing how even the most difficult materials can find a pleasing and performing use, customised to the client's needs.
The project packages include both different display folders and a special use of foamed boards for the sample placement.
From start to finish, the design of the sample collections reflects the identity of the company and ensures a sequentiality of the various elements included, thanks to careful processing in both material samples and screen printing.
A tailor-made quality that succeeds in supporting a company with an international outlook, enhancing its characteristics with all the professional skill of Idea Campionari behind it.