Handicraft innovation, between local traditions and an ethical identity.
Midj is a company made of values and technical synergy, a highly creative environment that in recent years has amplified its expertise, based on soft comfort, to encompass more and more the fluid lines of design.
A transformation that finds its complementary know-how in Idea Campionari's processing methods, in order to recreate a transversal and flexible sample collection.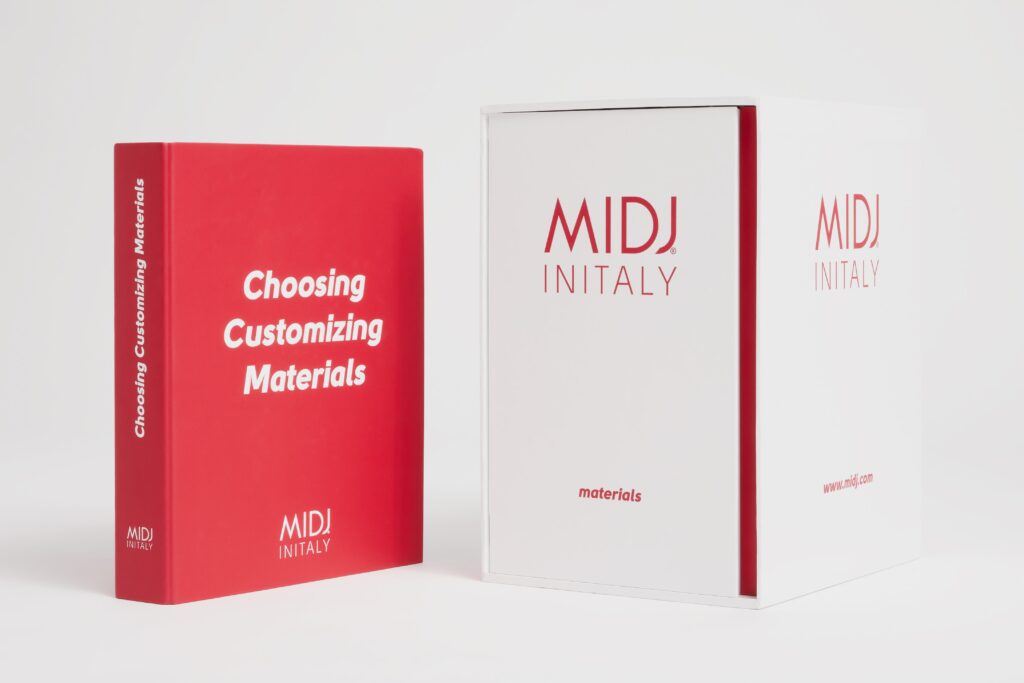 Innovative materials and colours guide Midj's products to become a benchmark in the interior design industry, revising its origins as a supplier of upholstered furniture and achieving collaboration with renowned designers and world-famous architects.
The company's products range therefore deserves a sample book that transcends standards, able to adequately represent chairs, stools, tables and complementary items, amidst a historical moment in which furniture welcomes new dimensions of everyday life.
Being able to gather in a single solution the multiple materials, the variety of colours and textures present is a challenge that Idea Campionari has accepted positively, after several years of cooperation on Midj's image.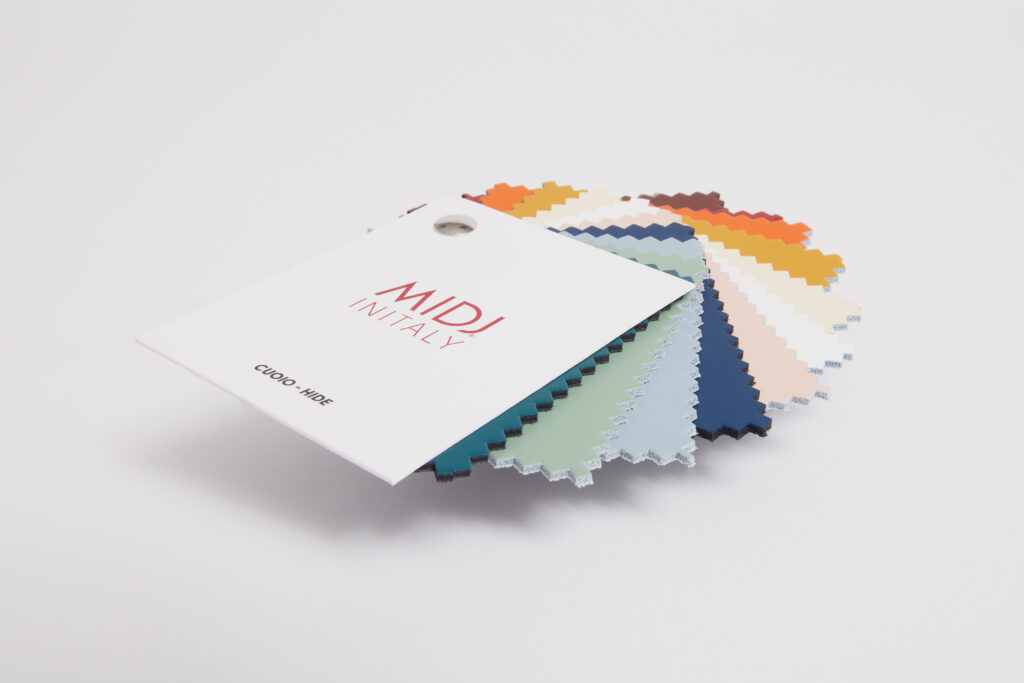 A materic panorama made of nuances and multiple processes, enclosed in the desired collection of samples.
Inside the full-bodied Midj box, you can find a summary of all the possible workmanship developed by Idea Campionari, through specialised services, skilled handwork and cutting-edge technology.
The main characters in this identity set are the fabrics and leathers, presented with files and swatches sorted by type and colour. Furnishings most representative materials go through a process running from the initial cut to the final sorting.
At the same time, other complementary and equally important finishes are also handled according to Midj's business concept: from wood to plastics, from silicones to metal, rigid samples receive an equally high level of attention, with silk-screen printed coding on samples of both classic and tubular shape, pleasing to touch and to look at.
The actual structure of the sample book is built up of different paper converting processes, with boxes, folders and drawers specifically intended for the different reference sectors for the materials.
Customised packaging that encloses the project recalls Midj's signature colours, white and red, in a refined essentiality that speaks in a language belonging to contemporary design, already approaching potential future transformations.