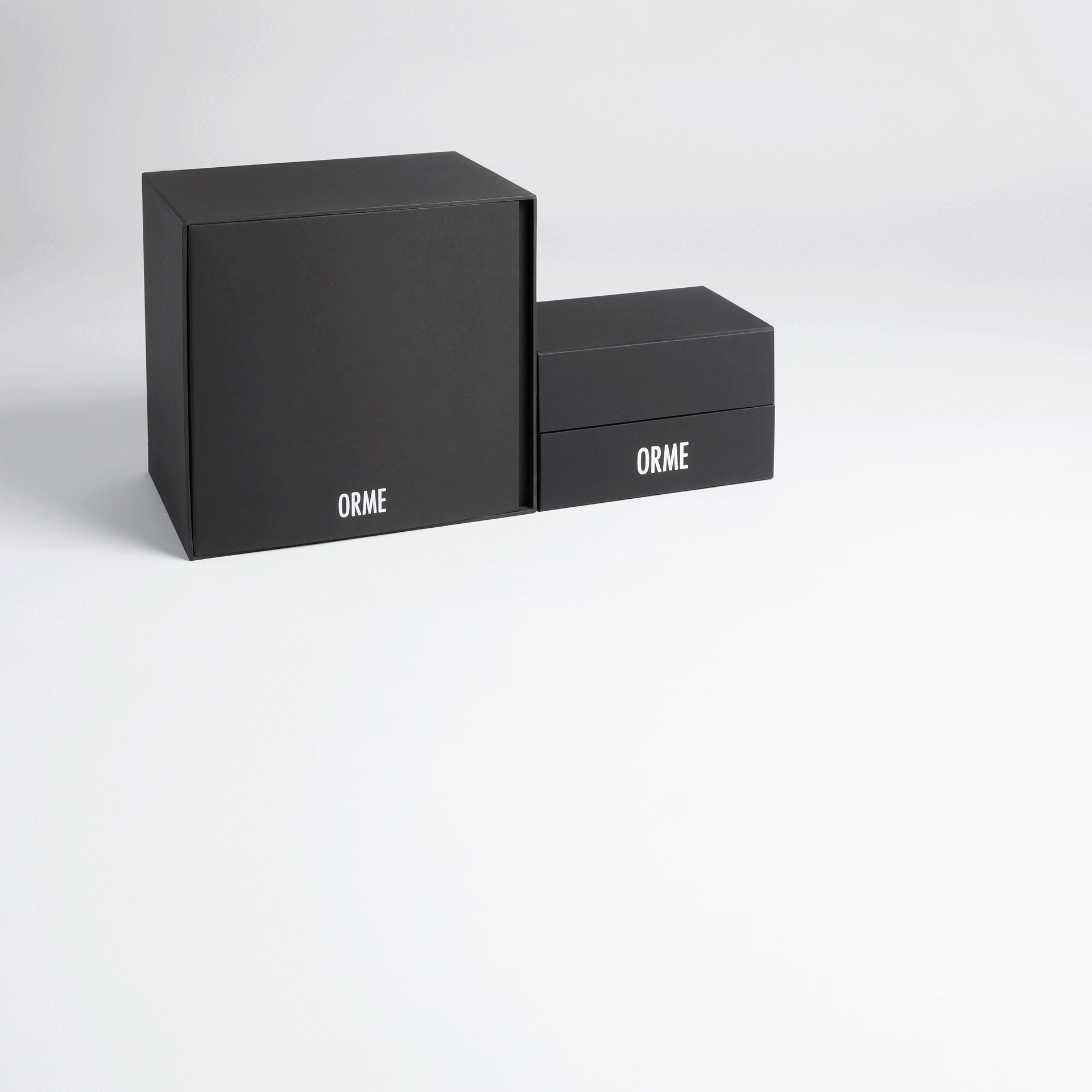 Twenty years of growth and innovation, between design philosophies.
Orme is a brand by Homes Spa Group that has emerged as a leading player in the Italian furniture market. The brand has created a harmonious style between tradition and modernity, thanks to flexible and technologically advanced production processes that allowed it to adjust production to market needs and to offer the highest level of product customisation.
For 10 years, Idea Campionari has been Homes' official partner, taking care of the visual identity of the group's 5 brands. Displays, folder boxes, material sample books, together with experience and professionalism: the joint effort and strong synergy established between the company and its team of specialised professionals has made it possible to model two Sample collections with a strong aesthetic value.
Orme presents an innovative and dynamic product, designed to meet the needs of an increasingly demanding and evolved consumer. Its design solutions furnish the sleeping and living areas with taste and refinement: bedrooms, wardrobes, cabin systems, systems for the living area and a wide range of accessories.
Founded in 1999, Orme has embarked on an entrepreneurial path capable of evolving and consolidating over time, opening up to European scenarios while maintaining the soul and production exclusively Made in Italy. The company is sensitive to environmental issues, which is why it uses only ecological melamine-faced panels and water-based lacquers that comply with European standards.
The two distinctive Orme product lines cover diversified market segments.
On one side, the Orme collections respond to the needs of a mature, bourgeois and sophisticated consumer, offering a wide range of colours and materials with a unique and refined taste.
The Orme Light collections complete the offer by addressing a young and dynamic target. From the living room to the sleeping area, the programme features pure and functional geometries, enhanced by a selected range of colours and materials in fresh and contemporary shades.
The collections reflect the vision of Homes Spa Group, which was passed down from father to son and, starting from the values of craftsmanship, it has created a large industrial reality, dedicated to offering Italian quality on a large scale.
The two sample books of the Orme and Orme Light collections are composed of substance and essential matter, and represent complementary presentations of the same interior design dimension.
For the Orme collection, the choice fell on developing an elegant sample book with black packaging, containing all the various finish segments: from wood to melamine, from precious lacquers to fabrics, right up to glass and leather samples. The set of materials and nuances is completed by an imaginative screen-printed classification that traces an itinerary of taste in contemporary furnishings: a modern point of view for architects and interior designers with a planning approach and attention to detail.
The Orme Light collection, on the other hand, is based on a softer and even more trendy package, a pearl grey exterior that reveals contemporary geometries and high-impact colours, with a selection of samples that reinterprets all possible raw materials and finishes through new experiments. The maximum synthesis of aesthetics and rationality provides a concrete response to new living requirements.
Idea Campionari designed a Materiotheque for Orme's showroom: a complementary space with modules dedicated to materials, coverings, colours for furniture and interior design. An immersive service that makes the projects tangible and provides an example of the technical quality achieved by Idea Campionari's team.