A glance at the past, to keep on innovating today and tomorrow. The history of Tomasella has long intertwined with the one of Idea Campionari.
Since 1948, the company has been designing furniture and interior components: focused on Made in Italy products, they are committed to maintaining the balance between territorial tradition and technological and creative research.
Due to this last vocation, rooted within its corporate spirit, Tomasella pursues a progressive evolution that in recent years brought to reinterpret its materials, in terms of production as well as how products are presented to the public and to the contractors, samples included.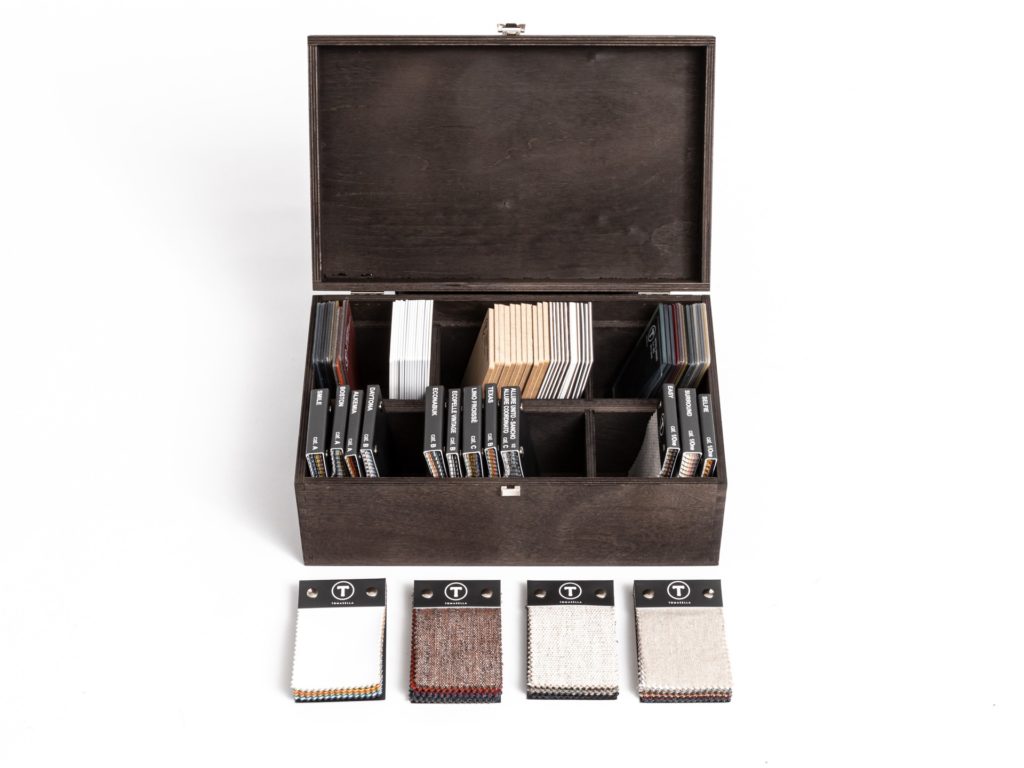 Substance and innovation flow in the veins of this company, which over time has been able to test different local elements and apply them in a national and international context. The range of materials expanded over the decades, becoming extremely wide and versatile: from classic applications of wooden furniture to fabric upholstery, processing multiple materials and colors reflecting the latest trends.
How can we convey this panorama through a unique and expressive sampler?
Idea Campionari decided to make its expertise in processing and practical application of raw materials available to Tomasella's dynamic imagination, thus finding the synthesis between furniture elegance and a certain stylistic novelty.
Thanks to this conceptual harmony, the resulting Sample Collection is visually striking, in a game of precision and fascination.
At first sight, the external box allows us to understand the company's characteristics: the materic choice fell on a solid wood package, an untreated surface coated and then marked with Tomasella's brand identity. Lifting the cover, contents are aligned according to the substance of the samples.
On one side, swatches in fine fabrics are collected, including cotton, linen and leather sets. These items are cut and refined thanks to precision machinery, automated through the most up-to-date technologies, in order to obtain a high quality product.
The other half of the sample collection includes a set of glossy and matt lacquers, with wood essences, laminates and melamines that recall the typical furnishings, from nuances to material finishings.
Within the involved processes, beyond material predisposition and the specific cut for each surface, the silk-screen coding clearly stands out, with its scratch resistant quality, ensuring long-lasting consistency and easy reordering.
The tailor-made packaging wraps up Tomasella's project with Idea Campionari, ready to imagine future steps for the new decade.